General Information:
Please do not send any promo / demo or release requests!
I am not signing any new bands at the moment. Excluded bands with which I am already in negotiations.
News
News 06.01.2020
You can find 2 reviews for the
Nebran Demo at the following links!
Unholy Black Art Of Ritual -> LINK
Black Salvation -> LINK
Official Nebran Homepage is online!
Visit: http://nebran.org/
Postage / Shipping Up-Date!
News 05.11.2019
Shop Up-Date!
News 31.10.2019
Today is the day, the demo of "Nebran - A New Path..." is available!
The first 33 pieces contain a Logo-PIN. First come, first served.
The tape is available for 4,90€ (+postage/package).
Nebran - traditional Black Metal in the style of the 90s (Strid, Emperor), perfect for the cold Season!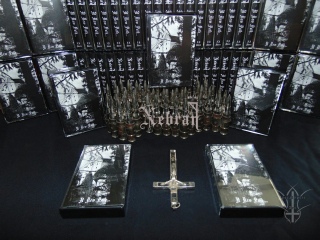 Tacks on YouTube:
A.A. MC012 Nebran - A New Path... (official)
A.A. MC012 Nebran - A New Path... (full Demo)